Tarang Saluja completed his summer undergraduate research internship at ISI this summer, working with John Heidemann and Yuri Pradkin on his project "Differences in Monitoring the DNS Root Over IPv4 and IPv6″.
In his project, Tarang examined RIPE Atlas's DNSmon, a measurement system that monitors the Root Server System. DNSmon examines both IPv4 and IPv6, and its IPv6 reports show query loss rates that are consistently higher than IPv4, often 4-6% IPv6 loss vs. no or 2% IPv4 loss. Prior results by researchers at RIPE suggested these differences were due to problems at specific Atlas Vantage Points (VPs, also called Atlas Probes).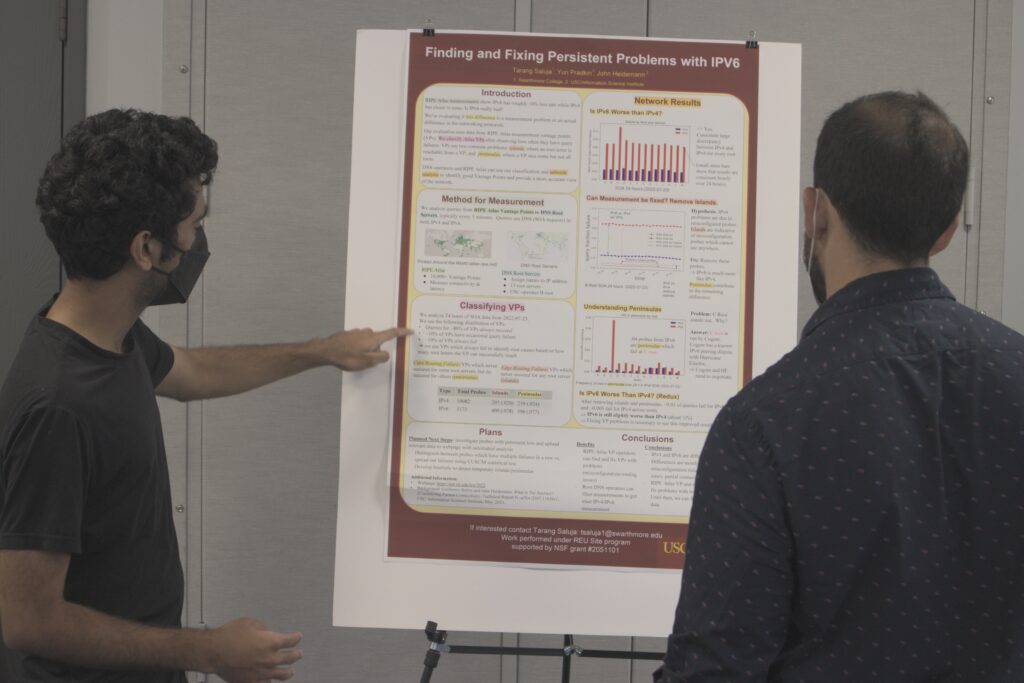 Building on the Guillero Baltra's studies of partial connectivity in the Internet, Tarang classified Atlas VPs with problems as islands and peninsulas. Islands think they are on IPv6, but cannot reach any of the 13 Root DNS "letters" over IPv6, indicating that the VP has a local network configuration problem. Peninsulas can reach some letters, but not others, indicating a routing problem somewhere in the core of the Internet.
Tarang's work is important because these observations allow lead to potential solutions. Islands suggest VPs that do not support IPv6 and so should not be used for monitoring. Peninsulas point to IPv6 routing problems that need to be addressed by ISPs. Setting VPs with these problems aside provides a more accurate view of what IPv6 should be, and allows us to use DNSmon to detect more subtle problems. Together, his work points the way to improving IPv6 for everyone and improving Root DNS access over IPv6.
Tarang's work was part of the ISI Research Experiences for Undergraduates program at USC/ISI. We thank Jelena Mirkovic (PI) for coordinating another year of this great program, and NSF for support through award #2051101.