Kaustubh Gadkari gave a talk on "A Fresh Look At Scalable Forwarding Through Router FIB Caching" at NANOG57 in Orlando, FL. Slides for the talk are available in pptx or pdf.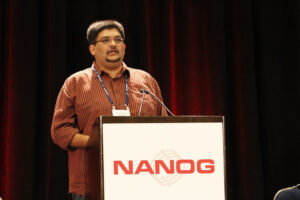 This talk presented current research into the possibility of employing caching on router FIBs to reduce the amount of FIB memory required to forward packets. Our analysis shows that 99%+ packets can be forwarded from the cache with a cache size of 10,000 entries. Packets that caused cache misses were TCP SYNs and SYNACKs; no data packets were queued. Our analysis also shows that our caching system is robust against attacks against the cache.
This work is part of our ongoing work on the analysis of FIB caching, being advised by Christos Papadopolous and Dan Massey at Colorado State University.